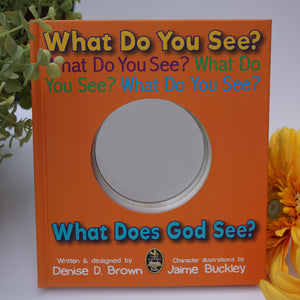 What Do You See? What Does God See?
Sale price Price $21.95 Regular price
Are you looking for that one special book for your kids, that one that inspires the heart, and won't take all night to read?
Every word in this award winning book will encourage the mind to see life in a positive way. This alphabet book renews the mind with uplifting promises from God.
Using positive and affirming words over kids will grow a prosperous mind and soul! 
This alphabet book will help them see God wants to have a real and true connect with them.
Every page is filled with His beautiful biblical promises.
By the end of the book kids will have heard how much they are loved. And, how special they are to God and so much more!
The last page lists where you can reference every phrase in the Bible.  

This book is a hardback 7.5 wide x 9 high, has a shatterproof mirror in the back cover, and high gloss pages for easy cleaning.